Harrods (87-135 Brompton Road, SW3 1RT) Britain's most famous store and possibly the most famous store in the world, Harrods features on many tourist 'must-see' lists - and with good reason. Its humble beginnings date back to 1849, when Henry Charles Harrods opened a small grocery shop that emphasized impeccable service over value. Today, it occupies a vast site in London's fashionable Knights bridge and boasts a phenomenal range of products from pianos and cooking pans to pets and perfumery with a large Hair and Beauty department its crowning glory on the top floor.
Marks & Spencer Flagship Store (458 Oxford Street, W1C 1AP) This enduring retail partnership began back in 1894 in a small shop in Manchester, but Marks & Spencer (M & S) now boasts more than 300 stores in the UK and 400 stores worldwide. M & S is one of Britain's most reliable and trusted stores, famed for selling high quality food, clothing and lingerie and household goods. Its ready meals, cakes, and desserts are some of the best on the market.
Fortnum & Mason (181 Piccadilly W1) One of the oldest and most famous stores in Piccadilly, this fine food emporium was opened by Messrs Fortnum and Mason in 1705. Much patronized by the aristocracy over the years, and still purveyor of food and wine to the Royal Family, Fortnum's is a must-see for anyone visiting London.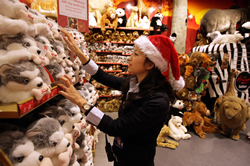 Hamleys (188-196 Regent Street W1B 5BT) Living up to its reputation as the 'finest toyshop in the world' is no mean feat. Hamleys still draws the crowds and boasts an astonishing array of more than 40,000 toys and games over its seven floors.
Harvey Nichols (109-125 Knightsbridge, SW1X 7RJ) Harvey Nicks is the younger, more fashionable cousin of Harrods in Knightsbridge. While Harrods offers huge variety accross a massive range of products, Harvey Nichols offers designer clothes, furnishing and food of a quality far superior to anything you would find down the road.
Topshop (36-38 Great Castle Street, W1W 8LG) Topshop is a byword for High Street Fashion in England, known for their inexpensive plain tops, basic collections and a good range of accessories. The vast emporium on Oxford Street is not just the largest Topshop in the country - it is a tourist attraction in its own right.
Selfridges (400 Oxford Street, W1U 1AT) Selfridges is the biggest draw on Oxford Street, but despite being massively popular, interior design manages to create a feeling of calm and space despite the hundreds of customers on each floor.
Liberty (210-220 Regent Street W1) Since it opened in 1875, Liberty has captured the hearts of shoppers around the world and even spawned its own line in fabrics, which found fame and popularity with designers like Mary Quant and Jean Muir in the 1960s.
Heal's (196 Tottenham Court Road, W1T 7LQ) Beautifully crafted, contemporary and often cutting-edge design can be found at this 200 year old furniture store. Renowned for its attention to detail and craftsmanship, the Heal's trademark has become synonymous with quality.