Site Info

UK Newbie

Here you can find UK newbie information, visiting places, education, qualifying tests, UK visas, cost of living, UK travel, accommodation, food, medical and health services, UK job prospects, calling cards, UK TV networks, exchange rates, UK shopping, movies and UK cassette rentals.

Products

here you can find some of the freeware I developed.

Knowledge base

here you can find my blog, knowledge base , source codes, tutorials and forums. .

Contact

here you can find my contact information, email info and guest book.
UK universities are consistently rated among the best in the world, not just in traditional, but also in cutting-edge subjects.
UK education may be highly sought-after and respected but it may be little expensive.
Over 800,000 international students are currently enjoying the benefits of a UK education. Quite simply, there is no better environment to take hold of your future

Course Duration for Masters:
Regular: 1 to 2 Years
Part Time: 2 to 3Years (you will not get visa for part time education)

Course Fee for Masters:
For UK and EU Students Average £3000-00 to £ 8000-00
For International Students Average£7000-00 to £13000-00

Getting Admission:
Qualification:
You need to have good academic marks in relevant studies in your (under)graduation
Additional test scores like IELTS or TOEFL
How to apply:
Educational consultants: There are many educational consultants all over the world, provide enough information about UK education and application forms
University open days: Universities conduct open days in side and out side UK every year
You can also get application form from university web sites(below), apply by post with your attested certificate copies.

Getting Visa:
See Visa section

Scholarships:
UK universities offer a variety of scholarships to help international students study in the UK, There are also several private companies that offer scholarships. Most scholarships are open for application around the time the SPM results are announced and students should plan ahead to find out what is required to ensure your application is successful.
About 5 to 20% of international students get some kind of scholarships in UK.
Visit Gardian University Guide for all UK Unversities information.
UEL (University of East London):
For reasonable fee, flexible study hours, good university facilities and moderately good studies, I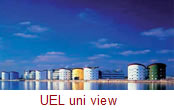 recommend UEL (University of East London) especially for international students.

The University of East London is an exciting, diverse learning community. They aim to give students an enthusiasm for new ideas, new knowledge and new learning, and the opportunities to excel in their chosen careers.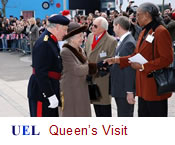 UEL Campus:
A stunning waterfront building which houses a Business School, state-of-the-art Library and Learning Services, a complex of new IT labs replete with 600 workstations which make up the Trading Floor, and a new 400-seat lecture theatre.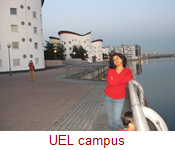 A Knowledge Dock Center, which brings together and expands all of the business-facing activities and services, ranging from incubator and start-up space through to a new Jack Petchey Center for Entrepreneurship as part of the Business School.

A student residences which provides additional accommodation for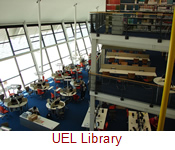 over 800 students as well as improved facilities and social areas .

Uni also has some facilities which you wouldn't expect -for example, an on-site manufacturing facility offering the opportunity of real world manufacturing experience from a business or engineering point of view; and a multimedia production center offering professional facilities and experience for students and local businesses, including two industry-standard television studios for film production.
For more information visit UEL.
Visit Gardian University Guide for all UK unversities rankings.
List of UK Universities
Aberdeen University
Abertay Dundee University
American InterContinental University - London
American University in London
Anglia Polytechnic University
Aston University
Bath Spa University College
Bath University
Belfast, Queen's University
Birkbeck College, University of London
Birmingham University
Bournemouth University
Bradford University
Brighton University
Bristol University
Brunel University
Buckingham University
Buckinghamshire Chilterns
Cambridge University
Central England University
Central Laboratory of The Research Councils
Central Lancashire University
Chichester, University College
City University
Coventry University
Cranfield University
Derby University
De Montfort University
Dundee University
Durham University
East Anglia (University of)
East London University
Edinburgh University
London University


Essex University
Exeter University
Glamorgan University
Glasgow University
Glasgow Caledonian University
Gloucestershire, University of
Goldsmiths College, University of London
Greenwich University Harper Adams University College
Heriot-Watt University
Hertfordshire University
Heythrop College, University of London
Huddersfield University
Highlands & Islands University
Hull University
Hull University, Scarborough Campus
Huron University USA in London
Imperial College, University of London
Keele University
Kent University
King's College, University of London
Kingston University
Lancaster University
Leeds University
Leeds Metropolitan University
Leicester University
Lincoln University
Lincolnshire & Humberside University
Liverpool University
Liverpool Hope University College
Liverpool Institute of Performing Arts

Liverpool John Moores University
London Guildhall University
London Metropolitan University
London University
Loughborough University
Luton University
Manchester Business School
Manchester Computing
Manchester University
Manchester Metropolitan University
Middlesex University
Napier University
Newcastle upon Tyne University
North London University
North Wales, Community University of
Northampton, University College
Nottingham University
Nottingham Trent University
Northumbria University
Open University
Oxford University
Oxford Brookes University
Paisley University
Plymouth University
Portsmouth University
Queen Margaret University College
Queen Mary, University of London
Reading University
Richmond The American International University in London
Robert Gordon University
Royal Holloway, University of London
Reading University
Richmond The American International University in London
Robert Gordon University

Royal Holloway,
Salford University
Schiller International University - London
Sheffield University
Sheffield Hallam University
South Bank University
Southampton Institute
Southampton University
Staffordshire University
St. Andrews University
St Martin's, University College
Stirling University
Strathclyde University
Sunderland University
Surrey University
Sussex University
Teesside University
Thames Valley University
UK eUniversities Worldwide
Ulster University
Ultralab
UMIST
University College
University of London
Universities for the North East
University College London
University of Central England
University of Surrey Roehampton
University of The Third Age
University of the West of England
University of Wales
Warwick University
Westminster University
Wolverhampton University
York University